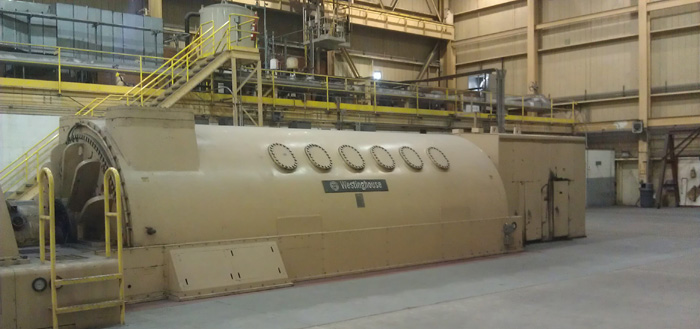 Turbo Generators
EME has extensive knowledge and experience in the troubleshooting, analysis, and design of cylindrical rotor, or "turbo" synchronous generator machines. We have applied this knowledge while broadening our experience over the past 30 years, primarily providing support to the power generation and repair industries.
Failure Analysis
EME has over 30 years of experience analyzing nearly every type of machine failure. We have experience determining the root causes of mechanical, electrical and thermal failures that have occurred within all types of generators and motors. The tools we utilize depend on a specific case, and range from extremely detailed finite element models to meticulous visual inspection of a failed component.
Uprate Design
With increasing demand to obtain more power from existing generators the evaluation of in-service equipment has become more important than ever. EME has and continues to perform extensive work in this area and have developed several machine design programs for increased capabilities. In addition, we have several computer aided modeling tools to address specific design areas of both turbo generators and exciters.
Ventilation Analysis
Stress/Mechanical Analysis
Thermal Analysis
Machine Electrical Characteristics through EMETURBO
Coil Design
Site Testing
EME has countless hours of experience with on-site testing of Hydro generator units and their supporting systems, both for problem solving and commissioning/uprate work. Some of our most common testing areas are:
Modal and frequency response testing of generator and motor end baskets, end turns and phase leads
Modal and operating deflection shape analysis of machine frames, rotors, bearing brackets and support structures
Modal and frequency response testing of turbine and blower blades
Root cause failure analysis & troubleshooting
Heat Run/Commissioning
Equipment Specialties
EME powers engineered solutions through partnering with our clients to compliment their existing internal capabilities. Read More >>
Hydro Generators
EME has over 30 years of experience analyzing nearly every type of machine failure. We have experience determining the root causes of mechanical, electrical and thermal failures that have occurred within all types of generators and motors. Read More >>